January 9, 2023
Funding for the Albert B. Alkek Building Including redesigning learning spaces and acquiring new technology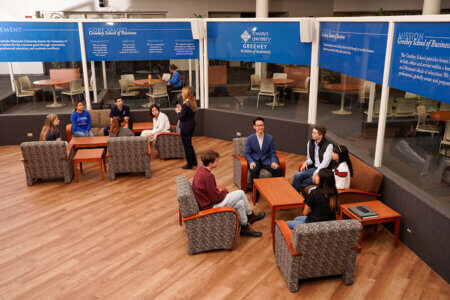 British stone. Mary University has received nearly $8.7 million over the years from the couple, their companies and their foundation. Albert B. Alkek attended St. Mary's, and is a board member.
"The generosity of the Alkek Foundation has been felt throughout St. Mary's University campus for many years. Every academic unit and student we serve has benefited from the Foundation's support in some way, and we are truly grateful," said President Thomas M. . Mengler, JD "As we continue to improve the educational experience and learning opportunities for St. Mary's students, the Alkek Foundation's partnership has been instrumental in helping us continue to develop successful and ethical leaders."
In the 1970s, the Alkeks made a transformative contribution with the construction of the commercial building that bears their name. Dr. Rowena Ortiz-Walters, Dean of the Greehey School of Business, has prioritized the renovation of the building to provide students with the best possible learning environment.
"As we move forward, we are eager to make the Greehey School of Business even more prominent and prepare our students professionally," said Ortiz-Walters, who is also a professor of management. "The Alkek Building, home to the Greehey School of Business, is significant to our ability to realize this vision."
The renovation included redesigning learning spaces, upgrading the student-focused atrium, and acquiring emerging technology.
"The Alkek Foundation is proud to continue Alkeks' investment in St. Mary's University," said Alkek Foundation President Charles A. Williams (MBA '86). "We believe that by providing this grant for the renovation of the commercial building, St. Mary's faculty will soon have state-of-the-art facilities and the latest tools to equip our future leaders with the skills necessary to thrive in this rapidly changing success in the world."
Experiential learning labs with flexible workspaces and digital interactive tables that encourage student collaboration

A career and professional development room where students can interview for internships, jobs and postgraduate courses

A presentation practice room with recording equipment where students can hone their communication and public speaking skills

Support areas for coaching and mentoring