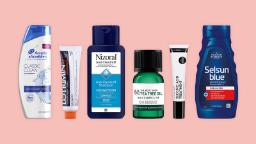 As it turns out, the internet caught on when people started praising dandruff shampoo as a skin care product. This dermatologist-approved tip specifically targets fungal acne and can help clear the symptoms of yeast zits.
To find out if it's right for you, we talked to a dermatologist about exactly what fungal acne is, what anti-dandruff shampoos can do, and which products to try.
If you notice stubborn, itchy bumps beneath your skin that don't seem to go away with traditional acne products, you may have fungal acne. Caused by the yeast Malassezia, also known as Pityrosporum folliculitis, it's different from acne vulgaris, or the standard type of acne we usually think of when we see blemishes.
"Fungal acne is a common misnomer because the condition isn't really acne," explains Dr. Ramya Garlapati is a board-certified dermatologist in Los Angeles and co-founder of Skin Medicinals. "It's actually a form of folliculitis, or infection of the hair follicles, due to an overgrowth of yeast, so the condition doesn't respond to traditional acne treatments."
In contrast, fungal acne requires treatment with antifungal agents to combat the proliferation of yeast in the hair follicles.
Treatments for fungal acne include over-the-counter skin care products and oral medications, as well as the little-known life hack of using anti-dandruff shampoo. Two dermatologists we spoke to, as well as many others on social media, attested to its efficacy in treating the condition.
"Using an anti-dandruff shampoo as a face or body cleanser for fungal-related skin conditions like fungal acne or seborrheic dermatitis is actually something I recommend to my patients," says Garlapati. But before trying viral trends, Garlapati reminds us, it's still important to "first have your skin problem evaluated by a dermatologist to make sure it's a fungal-related condition."
Benefits of Anti-Dandruff Shampoo for Fungal Acne

Dandruff is caused by Malassezia fungus at the root of acne, so anti-dandruff products and scalp treatments can also be used to target the skin condition.
"Anti-dandruff shampoos containing active ingredients with antifungal properties, such as zinc pyrithione, selenium sulfide, and ketoconazole, are most effective in treating fungal acne," says Garlapati. "You don't need to look for skincare products that contain these ingredients, because anti-dandruff shampoos can also be used as face or body cleansers."
While over-the-counter and prescription options are available, the anti-dandruff shampoos you'll find on the drugstore care aisle can do the trick. Common brands like Nizoral (which contains ketoconazole) and Head and Shoulders (which contains zinc pyrithione) are safe to use on the face, says board-certified dermatologist Dr. Jenny Liu.
Skin Side Effects of Using Anti-Dandruff Shampoos

As with any skin or hair care product, there is a risk of irritation, so be sure to do a patch test on a small spot away from your face, such as your arm, before using an anti-dandruff shampoo or face wash. Nizoral also lists rash as a possible side effect and should be discontinued if a rash develops on the treated area.
Plus, Liu notes, anti-dandruff shampoos "may cause dryness, so I recommend using it a few times a week."
How to Use Anti-Dandruff Shampoo for Fungal Acne

Once you've chosen an anti-dandruff shampoo, you can use it as a face wash or mask to treat fungal acne. "The key to using this product is to lather up and let it sit on the skin for a few minutes before rinsing it off," says Garlapati. "Shampoo should not be washed off right away, as the product needs to be in contact with the skin for a few minutes for the treatment to be effective." Liu recommends doing this in the shower, as it's easiest to incorporate into your routine.
Both Garlapati and Liu recommend using Nizoral on the face and body to treat fungal acne. It contains ketoconazole, an ingredient that fights the fungus that causes dandruff and Pityrosporum folliculitis.
Good ol' Head and Shoulders contains antifungal zinc pyrithione to fight the Malassezia yeast, which causes bumpy, clogged hair follicles in fungal acne.
Selsun Blue, recommended by Garlapati, uses the antifungal agent selenium sulfide to balance the scalp and skin. The formula contains menthol, which has a cooling effect and should be used with caution on sensitive skin.
Those seeking natural remedies may want to try tea tree oil. "Tea tree oil is known for its antimicrobial properties and can be effective in treating fungal conditions," says Garlapati. "Keep in mind that some people with sensitive skin can react to tea tree oil, so it's best to patch test the product before applying it to the entire affected area."
Salicylic acid-based treatments can help mild cases of fungal acne, Liu said. She loves this gentle option, which contains salicylic acid, succinic acid, and powdered sulfur, two antibacterial ingredients that help tackle traditional breakouts and fungal acne bumps.
Whether you have Pityrosporum folliculitis or athlete's foot, the cause of your discomfort is the same: fungus. Athlete's foot cream is also effective in treating fungal acne because it contains clotrimazole, a potent antifungal ingredient, says Garlapati.