Computer speakers are the unsung heroes of the audio world, dutifully spitting out audio that's often better than the sometimes awful speakers built into monitors, desktops, or laptops, even at budget levels. If you've been around computers long enough, you know the Creative brand – they're responsible for the Sound Blaster sound card, which gave many of us the first sound of Duke Nukem's sweet voice, the sound of shotguns in Doom and TIE Fighter. Brilliant MIDIized Star Wars orchestral score. A few weeks ago, I bought a pair of the company's cheap computer speakers — the Creative Pebble 2.0, to be exact.
While they didn't quite make our list of the best computer speakers, if you're looking for a solid, compact everyday-driver stereo unit for your desktop, you could do much worse.
The Creative Pebble 2.0 is a great, affordable upgrade to your computer's built-in speakers, all packed into an attractive, compact design that fits easily into any setup.
After owning an iMac for years and being happy with the built-in speakers Apple uses, I finally decided to upgrade to a true headless desktop. Unfortunately and unsurprisingly, the speakers in Mac Studio are terrible for anything but system sounds. But I don't need anything more than computer speakers. Most of the time, I use my computer to write, and if I write while listening to music, I inevitably get distracted by the musician's brain, because my brain needs to play back parts to hear how the guitarist is doing something, Or digest a wacky time change. If I like a movie or show, I want to watch it on TV. If I'm going to be gaming, I'd rather use a headset.
All that said, when I'm looking for a set of speakers, I just want something cheap that sounds good, looks good, and doesn't take up valuable desk space. Some buying guides pointed me to the Creative Pebble 2.0. It seemed to serve my purposes well, consisting of two small speakers with a look reminiscent of more spacious elements of mid-century design. What I didn't expect was that they actually sound like great value for money.
If you're looking for guttural bass loud enough to fill a large room, the Creative Pebble 2.0 might not be what you need. But other than that, the Creative Pebble 2.0 might be the perfect desktop speaker for anyone looking for what I describe above. Their sound is honest and direct—no fancy calculated audio here. They won't shake your desk, but they don't sound like tin cans either.
Of course, they are not suitable for every situation. Elton John's "I'm Still Standing" feels like a trapdoor has been opened beneath it, with all the low-end thrown away, while Journey's "Wheel in the Sky" comes across as loud once the vocals come on. turbid. But for other music, the Creative's small speakers showed impressive dynamics. Charles Mingus' version of "Jelly Roll" is a deceptively simple song from an entertaining jazz album filled with cheers from musicians, synchronized horn sections, delicate Snare drum brushes and slapping bass—the speakers faithfully reproduced all of these, never shattering any of the little details that create a soothing ambiance that brought me the closest I've ever come to falling asleep with a band I've managed on the road.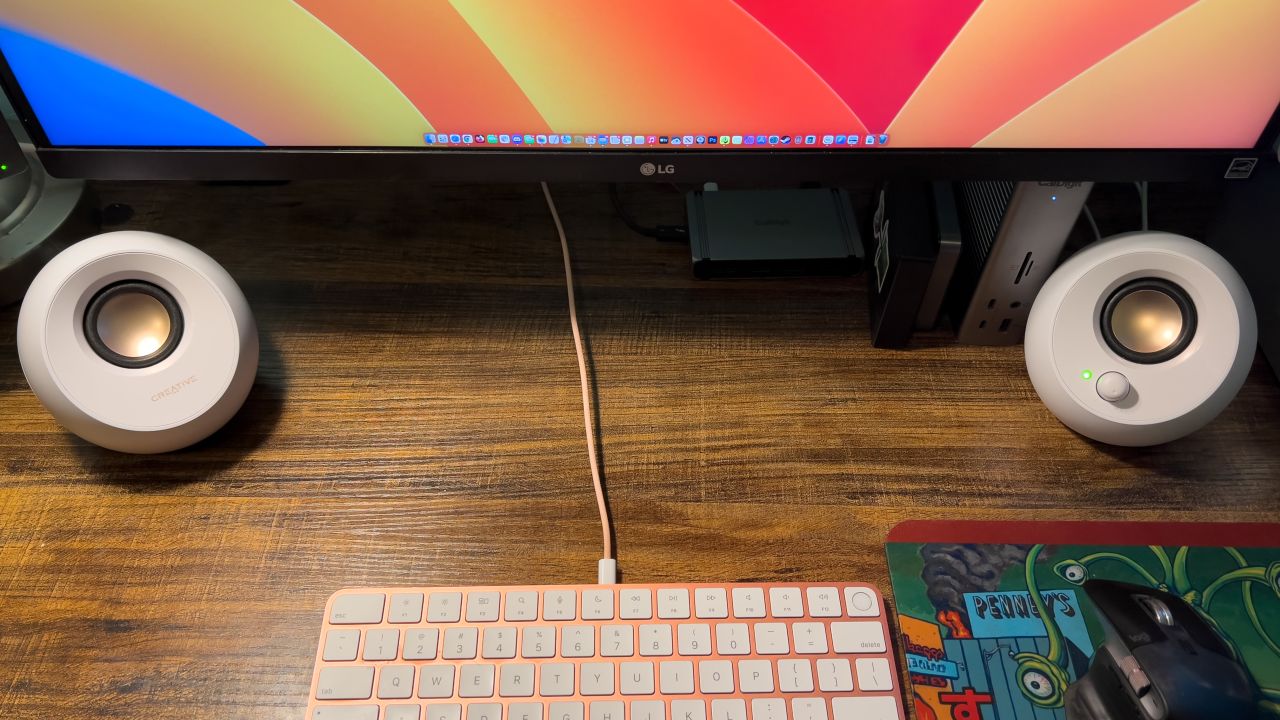 In addition to sounding great, I love the Creative Pebble's simple, functional design. They are powered by your computer's USB port or the not-included 5W USB wall adapter, giving them versatility as laptop speakers while saving you from having to crawl under your desk and find hidden power strips for your desk use. They're angled upward at a 45-degree angle, which allows me to point them at my head for ideal stereo immersion. There's a volume knob, and on the back there's a built-in 4-foot line-out cable with a 3.5mm audio jack that plugs into your computer's headphone port. Between them, a 3.9-foot cable allows plenty of play for wide spread. Finally, they're less than 5 inches in any size and fit neatly in any space-constrained setting.
Creative sells other versions of these speakers, including the $50 Creative Pebble Plus, which adds a subwoofer to the mix, and the $60 Creative Pebble Pro, which uses USB-C for power and has a built-in microphone on the bottom and RGB lights. If you want a slightly better deal than those, our overall top budget pick is the Cyber ​​Acoustics CA3090 Stereo 2.1 Speakers with Subwoofer, which is an oldie, but I can guarantee it's a good Stuff, has been used for nearly ten years. For my money, though, few gadgets I've spent $20 have made me happier than with the Pebble 2.0. It almost feels like running away from something.