The Buffalo Bills said the NFL player, who suffered cardiac arrest during the game, "has shown significant improvement over the past 24 hours."
Damar Hamlin, 24, remains "critically ill" but "has been shown to appear to be neurologically intact," they said in a statement.
"According to the physicians caring for Hamlin at the University of Cincinnati Medical Center, Damar has shown significant improvement over the past 24 hours," they said.
"His lungs continue to heal, and he's making steady progress."
He has been in a critical condition in hospital since Monday night, when he fell on the field in Cincinnati.
Teammate Kaiir Elam provided a further update, tweeting: "Our boys are doing better, sober and showing more signs of improvement. Thank God. Keep up the prayers. All love 3!"
The defensive back underwent about 10 minutes of CPR after collapsing on the field after injuring a tackle against the Cincinnati Bengals.
He collided with Bengals wide receiver Tee Higgins during Monday night's incident.
He then managed to stand up, appearing to adjust his helmet, before rolling backwards and lying motionless.
Beal said his heart stopped before it was "resuscitated" by medical staff on the court.
His jersey was cut off and he was reportedly put on oxygen.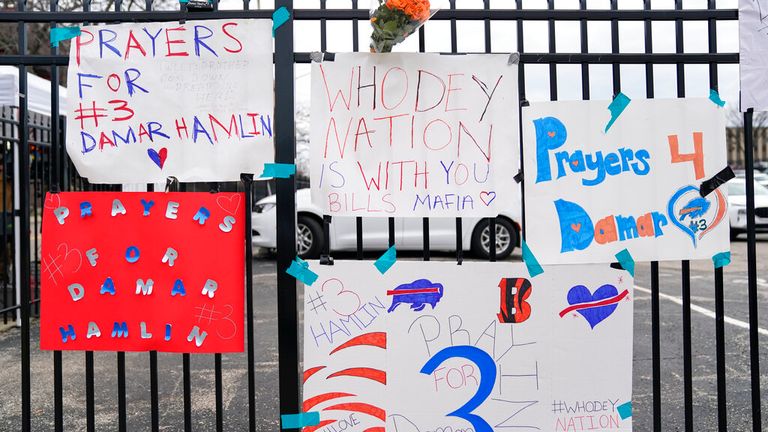 "They had to resuscitate him twice"
"His heart was failing so they had to resuscitate him twice," Hamlin's uncle Dorian Glenn told CNN on Wednesday.
"They resuscitated him at the scene before taking him to hospital and then resuscitated him a second time after taking him to hospital.
"I'm not a crybaby, but I've never cried so much in my life. Just wondering, like, my nephew basically died on the field and they brought him back."
The game was suspended and later postponed, and this weekend's Bills game against the New England Patriots will go ahead as planned.