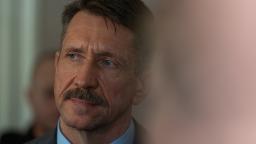 Kyiv had fully restored heating on Sunday, two days after a barrage of Russian missiles hit the city.
"All heating sources are operating normally," Mayor Vitali Klitschko said in a Telegram post, adding that utilities would serve "individual buildings that may have minor heating issues" throughout Sunday.
However, the wider Kyiv region is still grappling with power supply issues. More than 600,000 people, or 50% of the region's population, currently live without electricity, the head of the Kyiv Regional Military Administration said on Ukrainian television.
Over the past two days, crews have restored power to areas hardest hit by the shelling, official Oleksiy Kuleba said.
But "there are still several difficult areas without power," Kuleba continued, adding that the Bucha region in particular faces power problems.
Across the region, 410 service centers known as "Invincible Points," where residents of the area can charge their phones and get hot drinks, are now operating, Kuleba said.