As soon as I arrived, it started pouring rain. On the way to where I live, I felt the thunder rumble across the floor. The driver told me this was normal; New Orleans experiences roaring rainstorms for about half an hour to an hour almost every day, a chilling reminder that the city is in hurricane season. He assured me it would calm down soon. As soon as the voice fell, a purple lightning appeared in the sky. I have had a fear of thunder and lightning since I was a child. However, when faced with this relentless storm, I feel very calm because I love this city and know that I am here to achieve what I am going to achieve.
My last visit to New Orleans was in January 2019. After attending a game to watch the Saints in the NFC Divisional Game, I was miraculously selected. My dad and I landed early Sunday morning, watched the game in the afternoon, and flew home that night. Despite enjoying my first taste of New Orleans, it was short lived. I'm sure I'll be back eventually, but I don't know exactly when. However, I do know that when the opportunity arises, I will do my best to serve the city. Three years later, in July 2022, the opportunity presented itself.
I am now in New Orleans for the second time, but unaccompanied; this is my first solo trip. No parents, no company, no classmates. Just me and New Orleans. I couldn't be happier. It feels very liberating to explore a familiar yet unfamiliar city alone. I'm in New Orleans, working on a documentary about a severe food insecurity crisis affecting many residents in several constituencies. As a one-man band, I was arranging and conducting interviews, not to mention shipping, assembling, and disassembling film equipment. I had a great time despite the humidity.
I'm about to interview Ellie and Scott, two leading members of Culture Aid NOLA (CAN), a nonprofit dedicated to distributing food to underserved New Orleans in an accessible, shame-free way. I was in Our Lady of the Sea Star, a Catholic church near St. Petersburg. The Roche neighborhood of New Orleans. This is where food is distributed every Wednesday at 6:00pm.
We will be filming the interview in a small warehouse next to the church. I immediately noticed that the setup was rather echoic. To minimize reverberation, I asked Ellie and Scott to sit near the large curtains. Bringing them close to this curtain allows their sound to be absorbed, which cancels out the echo. This move was my time-sharing decision as a filmmaker, and I'm proud of my ability to adapt quickly.
After the interview, I shot B-roll footage of volunteers preparing to hand out food bags. I previously volunteered at Corpus Christi Church, another Cultural Aid NOLA site, where food was distributed every Saturday at 9:00 am. Food bags ready for distribution are relatively quick. Some volunteers are responsible for adding items to bags and passing them from one long table to the next volunteer. This supply conveyor is constantly being fed as more volunteers break down food trays and place goods on the table. It took two hours to prepare the bags to be distributed to about 350 families.
A line of cars began to fill the street next to the church, while several pedestrians filled the sidewalk. Once the distribution begins, some volunteers direct traffic and direct vehicles to the distribution station. Ask the driver to open the trunk or rear door so volunteers can put the bag in the car. Meanwhile, volunteers are helping distribute food to pedestrians on the sidewalk. Tickets reflecting the number of bags distributed are distributed to residents to keep track of the number of bags remaining.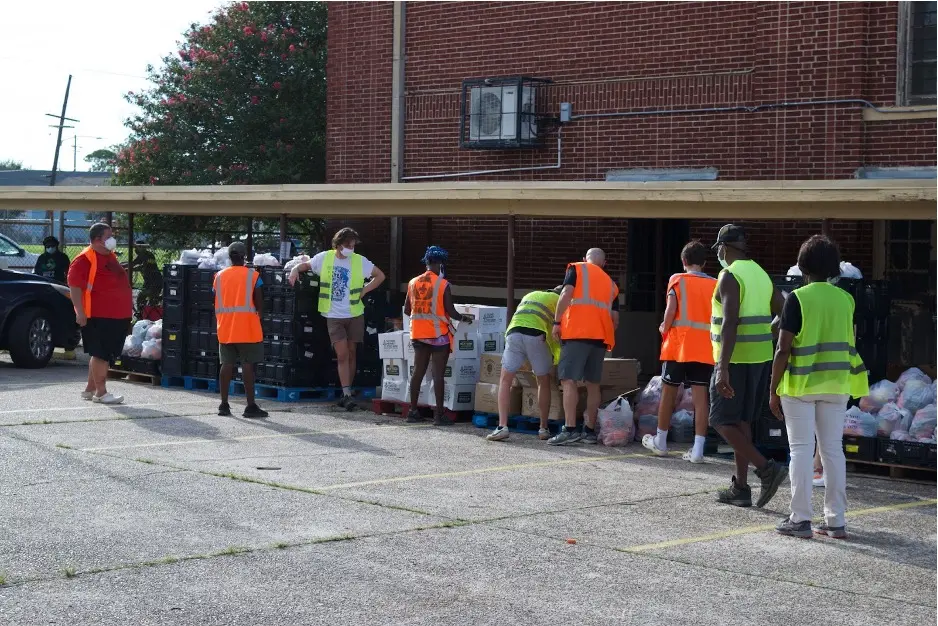 The hardest part of documenting this experience was witnessing volunteers having to turn residents away because there was no more food to distribute that day. As I was documenting the B-roll that the volunteers cleaned up, someone approached me and asked if I had any more food to distribute. I relayed that the food had been distributed; the man then nodded and walked away. It breaks my heart that I have to tell this and the people who have kids that we are all out of food.
Before I left, I spoke to a volunteer named Charles and asked him what the work that Cultural Aid NOLA was doing meant to him. "I used to be one of those people who drove across the line to collect food," he said. "I started volunteering after I realized I didn't need it as much as everyone else, and I've been doing it for at least six months now. Honestly, it's a lot more rewarding…I'm enjoying it."
Charles also said he believes the lack of information is one of the most important issues in New Orleans when it comes to food insecurity. "For whatever reason most people don't have the information available, as neighbors I think it's our responsibility to at least try and share, educate and show people all the different food options available, and cultural [Aid] NOLA is one of them," he said. "I actually think it's the only one I know right now who has really shown an interest in feeding the city.