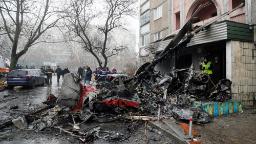 The Ukrainian prime minister said after a meeting with the head of the International Atomic Energy Agency on Wednesday that the U.N. nuclear watchdog had finalized sending permanent missions to Ukrainian power plants, including those in Rivne, Chernobyl and southern Ukraine.
Prime Minister Denis Smehal told a news conference that the IAEA mission at the Khmelnytsky nuclear power plant will also become operational soon and that work on all missions continues during and after the war to restore any damage.
IAEA Director General Rafael Grossi said the agency continued to expand its presence in Ukraine.
"For the first time in human history, nuclear facilities have become an integral part of an offensive military strategy," Shmihal said after the meeting, adding that Grossi pledged the IAEA's full support for "our efforts to ensure nuclear safety." efforts", including at the Zaporozhye NPP.
remember: With six reactors, Zaporizhzhia is the largest nuclear power plant in Europe. The area and nuclear facilities have been under Russian control since the start of the war. Grossi and other nuclear experts have been concerned about the threat of a nuclear accident during shelling around the plant.
Shmyhal said Ukraine had demanded that control of the Zaporizhzhia facility be returned to Ukrainian authorities and that Russian troops and Rosatom personnel were "completely withdrawn" from the plant. Grossi assured Ukraine that the IAEA would never recognize Russia as the owner of the Zaporozhye NPP.
The prime minister added that Ukraine would "continue to insist on limiting Russia's rights and privileges at the International Atomic Energy Agency and terminating cooperation with Russia in the nuclear field".