A schoolgirl has won a national innovation competition for her design of a backpack that filters air to protect people from pollution and airborne diseases.
Eleanor Woods showcased real-world incarnations of her products in London over the weekend, winning over judges with her high-tech school bag, which "looks cool, helps kids get outside and wards off colds".
All that and it will still carry her textbooks, stationery and homework.
The 12-year-old, from High Burton, Huddersfield, said her Breathe Better Backpack was inspired by her mother's asthma, which she Coronavirus blockade.
"I have an air filter at home because my mom has mild asthma," she said, adding that it was also designed to help keep friends and classmates safe.
"My generation is really aware of pollution, we're taught in school about it and the spread of disease.
"That's another reason I designed this, because it got worse."
'I can taste the gas'
Climate activist Greta Thunberg, a "big role model" for Eleanor, said she could "taste petrol" outside as she walked to school from her home on the main road.
When her mother, Annabel Hobbs, 58, kept a "backpack to the future" form in her room, she formulated her own solution.
Her creations are powered by solar energy and a generator, a machine that converts mechanical energy into electricity, with built-in filters and fans to purify the air.
It's blue and decorated with air bubbles, which Eleanor says gives the backpack a "clean theme".
"If only a few people start using it, it could be very good for the planet," she added.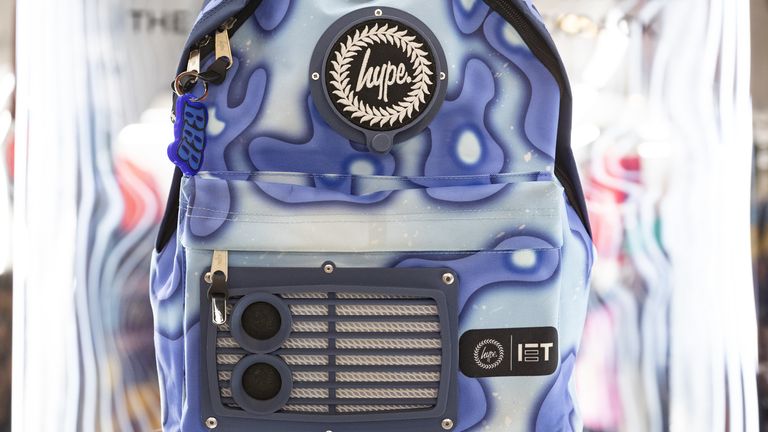 The Backpack To The Future competition is a partnership between the Faculty of Engineering and Technology and fashion label Hype.
It was launched to encourage more diversity in engineering and to show children how they can combine an interest in fashion with careers such as science and technology.