CHICAGO – There are plenty of things going on all over the city this weekend, including World Cup parties, music festivals and local markets.
Here's a roundup of 15 things to do in Chicago this weekend:
Holly Jolly Tram Tour
Saturdays start at 11am
different locations
Holly Jolly Trolleys will be available in various neighborhoods across the city, including Ravenswood and Bucktown, during small business events on Saturday.
Friday 5-10pm
Rizzo's Bar & Inn, 3658 N. Clark St.
The Santa party bus is heading to the city this weekend and throughout December. The five-hour experience includes a chili and macaroni and cheese buffet, a bus tour and admission to Lincoln Park ZooLights and Christkindlmarket. Tickets for BYOB buses start at $49 and can be purchased online. Riders must be at least 21 years old and have a valid ID.
Fri-Mon 4pm-1am
Lucky Strike, 322 E. Illinois St.
This Thanksgiving weekend, hit the bowling alley. If you hit the turkey three times in a row, Lucky Strike will donate $50 to the Greater Chicago Food Depository.
Saturday 10am to 2pm
Common Cup, 1501 W. Morse Ave.
Kick off the holiday shopping season and support local businesses this weekend for #SmallBizSat. From 10am to 2pm there will be a welcome station offering free crepes, coffee and cocoa, live music, selfie stations, tote bags and a range of merchants offering specials throughout the day.
10:00 am to 6:00 pm
Various locations in Lincoln Square
Shop at small stores offering special discounts and enjoy a full day of festivities, including photos with Santa and festive tunes of Victorian carols.You can also round off the day with the lighting of the Christmas tree at the Ravenswood Chamber of Commerce in Lincoln Square at 5.30pm
Saturday 10am to 5pm
Something Absolutely Necessary, 3521 S. King Drive
Bronzeville's largest Small Business Saturday event will feature more than 20 artists, designers, small business owners, vendors and essential service providers. You can 'make and take away' your own handmade gifts, or shop for locally made clothing, jewelry and accessories, gourmet food and more.
Friday noon to 5pm
Various Locations in the Chicago Brewing District
Grab a drink from 35 local makers this Black Friday. There will be a variety of handmade items including jewelry, home decor, prints, soaps, paintings, candles and more. Free admission.
Friday 6-7pm
Millennium Park, 201 E. Randolph St.
Celebrate the holidays and sing along with local music groups including Oakdale Christian Academy Choir and Windy City Gay Chorus and Treble Quire. If you can't make it this weekend, from Friday to December 16.
Fri-Sun 10am-4pm
National Museum of Art of Mexico, 1852 W. 19th St.
This festive market sells handmade Mexican souvenirs including ornaments, nativity scenes, t-shirts, jewelry and more. Museum members receive a 30% discount on all purchases.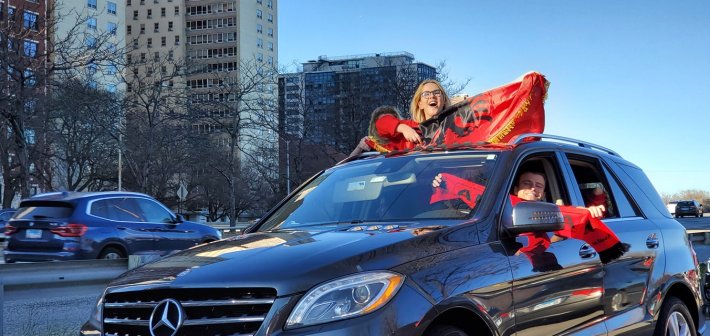 Albania Independence Day Parade
Sunday 12:30-2:30 noon
900 S. Columbus Ave.
You can celebrate Albania's Independence Day with the Albanian-American community at this parade.
Watching the World Cup Party in a Bar
Friday 1pm and Saturday 1pm
Broken English Taco Pub, 75 E. Lake St., 2576 N. Lincoln Ave and 1400 N. Wells St.
You can tune in to USA vs. England and Mexico vs. Argentina to play with fellow Chicagoans and enjoy $40 mag pitchers.
Friday at 1pm
Gallagher Way, 3635 N. Clark St.
You can also tune in to the USA vs USA game. England match at Gallagher Way. Afterwards, stop at Christkindlmarket Wrigleyville for international food and drinks.
Friday 3pm-8pm, Saturday-Sunday 11am-5pm
Gallagher Way, 3635 N. Clark St.
Santa is heading to Lakeview this weekend. He will be there for pictures Friday through Sunday through December. 18.
Doors open Friday-Sunday at 5pm
Friday through Saturday at Thalia Hall, 1807 S. Allport St.
Sundays at Empty Bottle, 1035 N. Western Ave.
Catch Psyche, Blu Anxxiety, Boy Harsher, Black Plague and more this weekend. There will also be a photo booth, interactive exhibits, vendors and more. Tickets range from $41-$176 and are available online.
Friday night 7-11pm
SPIN, 344 N. State St.
Watch paint fly and canvases go from "blank to beautiful" in this live art battle. All artwork created during the event will be available for purchase through the silent auction. Doors open at 7pm, painting starts at 8pm. You can sign up for the competition here. Spectator tickets are $22 online and $25 on-site. You must bring a valid ID to enter.
Listen to "Everything's Alright: A Block Club Chicago Podcast":