Major Tim Peake, the first official British astronaut to complete a spacewalk outside the International Space Station (ISS), is retiring.
Seven years since his historic starwalk in January 2016, the 50-year-old will be an ambassador for the European Space Agency (ESA), helping young people pursue careers in science, technology, engineering and mathematics.
He has been an ESA astronaut since May 2009 and visited the International Space Station for the first time in December 2015.
The ex-British Army helicopter pilot praised the experience of looking down on Earth during his six-month mission "Unbelievable feeling".
Have had hoped to return But has been on furlough since October 2019.
Major Peake said: "Over the past 13 years, I have had the privilege of working with an outstanding team of dedicated individuals at the institution and it has been incredibly exciting and rewarding.
"I will continue to support ESA and the UK Space Agency through my role as a Human Spaceflight Ambassador, with a focus on education outreach, and I look forward to the many exciting opportunities ahead."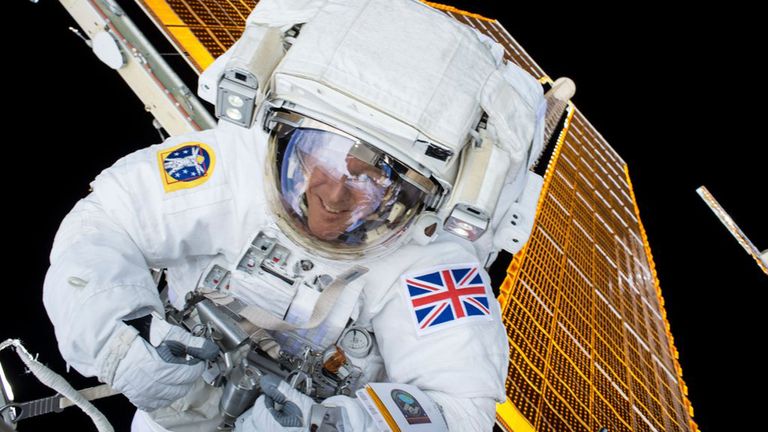 major peak role in space
Britons went into space on a mission called Principia, which included more than 250 scientific experiments.
His spacewalk is to repair the power supply of the space station.
Major Peake also broke the record for completing the space marathon in 3 hours, 35 minutes and 21 seconds.
Since the Principia mission that ended with Major Peake back to earth Along with astronauts from Russia and NASA aboard a Soyuz spacecraft, he has been a passionate ambassador for space travel and the collaboration it fosters.
Major Peake tells Sky News after Prince William criticized space race and billionaire involvement Exploring the stars is still 'very important'.
He is also the de facto ambassador for Britain's efforts to expand its role in the new space race, hailing the launch of an orbital rocket from Cornwall this month as "A pioneering mission for the UK space industry".
Dr Paul Bate, chief executive of the UK Space Agency, said he had "exercised a leadership role" in the field.
He added: "Not only did he perform important scientific work during his historic Principia mission to the International Space Station and on Earth, but his passion for space and the opportunities it provided inspired millions of people."
Who will fly the flag for Great Britain next?
Three British citizens declared ESA's next batch of astronaut candidates end of last year.
They include astrophysicist Rosemary Coogan from Northern Ireland, who will undergo rigorous training for future missions starting in April.
Former Paralympic athlete John McFaul is taking part in a feasibility study to see if he can fly as a disabled astronaut, while Megan Christian is on reserve in case someone drops out.