U.S. Secretary of State Anthony Blinken met with top Chinese diplomat Wang Yi, the first meeting between the two countries since a spy balloon was allegedly shot down over the United States.
The hour-long meeting took place in Germany, where the pair were attending Munich Security Conferenceto debate the most pressing challenges facing international security.
After the talks, Mr. Blinken told CBS: "I made it very clear to him that China's launch of surveillance balloons over the United States violated our sovereignty, violated international law, is unacceptable and must never happen again."
Secretary of State also repeated president biden Washington is not looking for a 'new cold war', but the country will 'stand up unapologetically' [its] values ​​and interests," his spokesman said.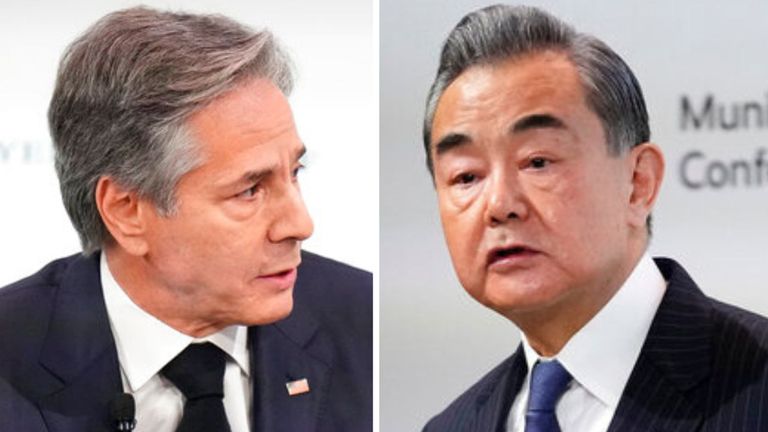 The dispute between the two countries has been Shooting down balloons off the coast of South Carolina On Feb. 4, Mr. Blinken postponed his upcoming trip to Beijing.
Earlier, Mr Wang reiterated Beijing's criticism of the US, saying shooting down the balloon did not represent China's strength.
"These actions do not show that the United States is big and powerful, but quite the opposite," he said.
China It has long been asserted that the balloon, which was used for meteorological and other scientific research, was blown off course due to high winds and limited "self-steering" capabilities.
Shoot down flying object "has nothing to do with China"

In addition to the balloon incident, Blinken also once again warned China not to provide aid to Russia in the Ukraine war.
Mr Blinken tweeted: "I warned China not to provide material support to Russia. I also emphasized the importance of keeping communication channels open."
read more:
Spy Balloons and Flyers: A Timeline of What Were Downed
China has 'military-linked high-altitude balloon program'
In remarks, the vice president echoed concerns about Moscow's deepening ties with China Kamala Harriswho said that "any step by China to provide lethal support to Russia will only reward aggression, continue the killing and further undermine the rules-based order".
Ms Harris made no mention of the balloon incident, instead stressing the importance of maintaining a "rules-based international order".
In a statement shortly before Ms Harris spoke, Mr Wang said China expected the US to take a "pragmatic and positive approach to China so that we can work together".