The United States reacted cautiously to Russia's decision to deploy nuclear weapons in Belarus.
On Saturday, a Russian news agency reported that Vladimir Putin had signed a deal to deploy tactical nuclear weapons in Belarus.
Ten aircraft capable of carrying weapons – designed for battlefield use rather than destroying cities – have reportedly been moved there.
Ukraine War – Live Updates: US "Monitoring Situation" in Belarus
This is the first time Russia has deployed such weapons abroad since the mid-1990s.
But a senior U.S. administration official told Reuters there was no indication Moscow planned to use the weapons.
"We see no reason to adjust our own strategic nuclear posture, nor do we see any indication that Russia is preparing to use nuclear weapons.
"We remain committed to the collective defense of the NATO alliance."
Ukrainian President Volodymyr Zelensky's top security adviser warned the move would destabilize Belarus.
"The Kremlin is holding Belarus as a nuclear hostage," Oleksiy Danilov, head of Ukraine's National Security and Defense Council, tweeted.
"No Violation" of Nuclear Treaty
According to Russia's TASS news agency, Putin claimed that the decision would not violate the nuclear non-proliferation agreement because the United States has already deployed such weapons in Europe.
It's a reference to an international treaty aimed at preventing the spread of nuclear weapons – keeping them out of the hands of countries that don't already have them.
But Putin said the weapons that would be stationed in non-nuclear Belarus would remain under Russian control.
"There is nothing unusual here either: first of all, the US has been doing this for decades. They have been deploying tactical nuclear weapons on the territory of their allies for a long time," Mr Putin told state television.
"We agreed that we would do the same — I emphasize, subject to our obligations, subject to our international obligations on the non-proliferation of nuclear weapons."
According to the Center for Arms Control and Nonproliferation, there are an estimated 100 nuclear warheads on US air bases on the continent, including in Germany, the Netherlands and Turkey.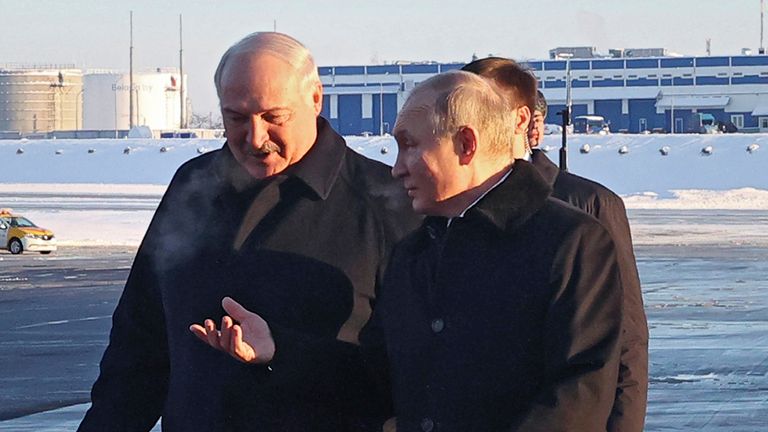 Russia's dependence on Belarus
Tensions over Ukraine's war rose after the West delivered vast quantities of arms to Kiev, with Moscow shifting the language of its military campaign from "demilitarization" of the neighboring country to fighting the "collective West" there.
The latest deal is another sign of the Kremlin's reliance on Belarus as an ally during the war in Ukraine.
Follow Daily Podcasts on Apple Podcasts, Google Podcasts, Spotify, Spreaker
Both Mr Putin and Belarusian President Aleksandr Lukashenko exchanged visits in their respective capital cities.
Belarus has also helped train Russian troops, care for the wounded and provide supplies. The regime also allows Russia to use its territory to launch ground and air attacks.