Britain could be headed for a severe flu season after Australia – often used as a predictor for the northern hemisphere – suffered its worst flu season in five years.
numbers have been shown 10-fold increase in flu hospitalizations than this time last year.
NHS leaders have warned the country is facing a "triple" threat of COVID, influenza and record demand for emergency and emergency services under staffing pressure.
What are the symptoms of flu?
Flu symptoms include high fever, headache, tiredness and dry cough, as well as cold-like symptoms such as stuffy or runny nose, sneezing and sore throat.
Unlike the common cold, symptoms tend to start more suddenly, be more severe, and last longer.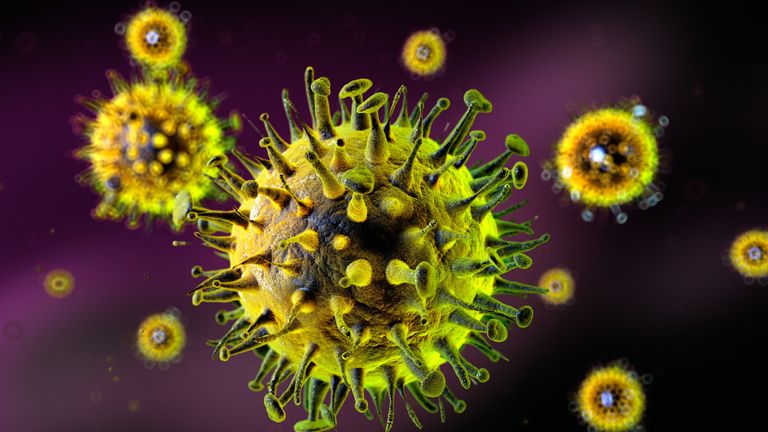 How flu cases in Australia are affecting the northern hemisphere
Experts usually monitor flu cases in Australia and New Zealand during winter to predict the impact the virus will have when it arrives in the UK.
Flu cases in Australia have risen rapidly this year, with onset earlier than usual and hitting record highs.
According to Australian health authorities, most flu cases in Australia are caused by influenza A, which is known to cause more severe epidemics.
New Zealand also had the highest flu rate compared to the past two years.
read more:
NHS England figures show hospital flu cases up 10-fold from last year
NHS leaders are more concerned about this winter than ever
Relaxation of COVID measures leads to surge in flu
According to an article in The Lancet, the sharp increase in the number of infections may be due to a relaxation of measures taken to combat COVID-19, such as quarantines, social distancing and wearing masks.
"Data from Australia provide warning of an earlier and more severe influenza season in the northern hemisphere," the researchers said.
The authors also suggest that influenza has not circulated as frequently in the past two years, so immunity to the circulating virus may have been substantially lower than in previous years.
Also, children under two and pregnant women, who are most at risk of severe illness, were less likely to have been exposed to the flu.
The HSA said it was particularly concerned about pregnant women and young children.
Vaccination rates are down
The authors note that flu vaccination rates have been declining in Australia and the UK, including among pregnant women and children, who are most at risk of severe illness.
They also said vaccination rates among UK healthcare workers fell from 77% in 2020-21 to 61% in 2021-22 when the vaccine was given with a COVID-19 booster.
Safety concerns and distrust of coronavirus vaccines may also contribute to flu vaccine hesitation, they said.
No matter where you get the podcast, subscribe to Sky News Daily with one click
They added that a decision made earlier this year to exclude people aged 50-54 and 11-15 from those eligible for flu shots should be reconsidered.
Children are most responsible for the spread of influenza and have the highest rates of infection in Australia.
To be effective, vaccine campaigns should start early and address disparities in vaccinations among groups at high risk of infection, such as healthcare workers and children, the researchers said.
If the UK experiences a flu season similar to Australia's, it will have to contend with two simultaneously circulating respiratory viruses at high levels – putting even more pressure on an already stretched NHS.