A 28-year-old woman was dragged eight miles after her car was pulled by a truck on a road in Kansas, Missouri.
Police in Leewood, Kansas, received reports of a truck traveling west on I-435 at around 3:40 a.m. Wednesday, towing a silver vehicle, NBC News reported. The Kia is dragged to the edge of the trailer.
A video captured the scene as several other cars tried to alert the truck driver with flashing lights.
After about eight miles, he finally stopped.
The woman driving the Kia, from Kansas City, was taken to the hospital for treatment but has since been released.
Police audio released by local newspaper The Kansas City Star showed that after two officers were dispatched to an "unknown incident," some told dispatchers that they "thought someone was in a car that was stuck under the truck. Inside".
Captain Brad Robbins reportedly told local media he believed the truck was going through a green light when the Kia spun through a red light and hit the rear wheel of the trailer as it was heading south.
Fire and ambulance crews also responded but were initially unable to pick up a pulse on the driver, The Star reported. When she regained consciousness, she complained that she was in pain.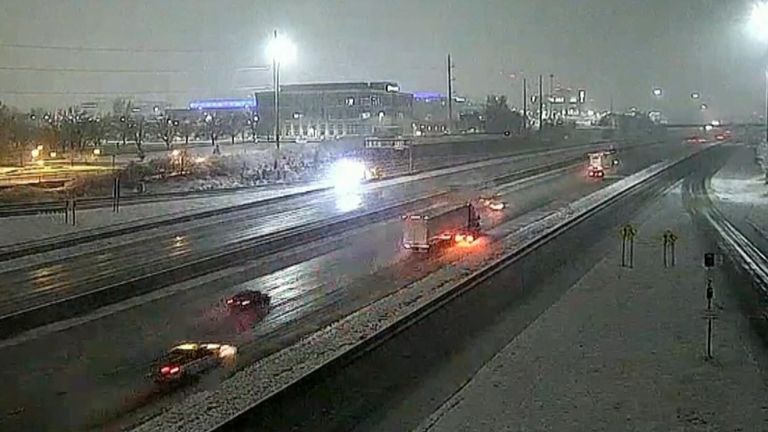 Read more US news:
'Disgusting' footage of traffic stops sparks fears of riots
School boss fired after 6-year-old boy shoots teacher to death
Woman 'posing as high school student' arrested
A day later, the two were killed in a car accident near the same road. Overland police shared that two vehicles collided, one of which crashed into a concrete barrier and rolled over multiple times after coming off I-435.
Both people in the car were pronounced dead at the scene. Police believe the crash was caused by a car attempting to change lanes on Highway 69.